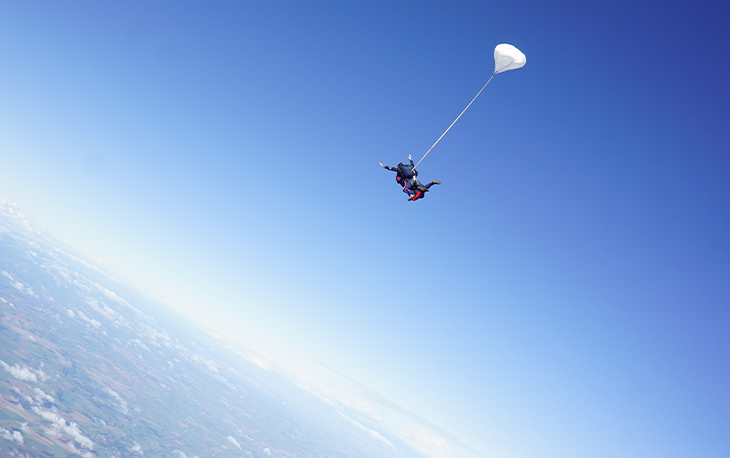 Justin Hydes, Funeral Arranger at Dawe Brothers Funeral Directors in Ledbury, skydived from a staggering 13,500ft to fundraise for his local hospice with a group of bikers, who have raised over £600,000 for the hospice to date.
The Hospice Angels were founded by Mike Pullin in 2003 and have carried out a number of sponsored motorcycle rides for St Michael's Hospice, including across Sweden and India. This is in addition to 10 sponsored skydives through its subgroup the Flying Angels.
Justin said: "I met Mike through my brother-in-law, whose mother was cared for exceptionally well at St Michael's Hospice before she passed away.
"After learning about the incredible amount of funds the Hospice Angels have raised for St Michael's over the years, I wanted to get involved as much as I could. This therefore marks my second skydive with the Flying Angels."
Justin helped raise over £2,500 for St Michael's when he, Mike and the rest of the Flying Angels took to the skies in 2019 and fell from 13,000ft.
In 2020 Justin's mother, Brenda, was cared for by St Michael's in her home before she passed away, despite the pressures of lockdown during the Covid-19 pandemic.
Justin said: "I, my father and my sister will always be grateful for all of the support St Michael's have provided and continue to provide. This next skydive was therefore in memory of mum."
The group is over the moon to have raised more than £18,870 for its 2021 skydive, with Justin also raising £300 for Dream Your Future, which provides counselling and mental health support for parents of schoolchildren.
Justin said: "In addition to Mike handing out sponsorship forms to Herefordshire residents, Funeral Partners was kind enough to design posters for us to place around Dawe Brothers. These had QR codes that people could easily scan with their phones and find the MuchLoved donation page through.
"The combined effort must have made a difference, as I never would have dreamed that we'd raise nearly £20,000."
Justin was beaming with excitement as he climbed into the seatless plane with the Flying Angels and ascended to 13,500ft, which was 500ft higher than his last skydive. For him, fear never came into the equation. He laughed: "The hardest part was the two-hour drive to Netheravon Airfield on Salisbury Plain."
"The actual skydive is very liberating and peaceful, even during the 45 seconds of freefalling from such an incredible height."
Mike said: "I became friends with Justin just after I moved to Ledbury about two and a half years ago. Since then, Dawe Brothers has been kind enough to offer their premises as a place for us to set up table sales and raise money for St Michael's.
"Fundraising with Justin has been a real eye-opener. Being in the funeral profession, he sees first-hand the comfort that St Michael's brings to families and their loved ones, and he's always coming up with ideas to help the Hospice Angels raise more money."
Justin is now speaking with Mike about abseiling for St Michael's Hospice to continue raising funds at a time when hospices are most in need, while Mike is looking for people to join the 2022 skydive.
Justin concluded: "It's always a pleasure teaming up with the Hospice Angels and I look forward to seeing what else we can do together."